Il noto sito internet olandese

http://home.planet.nl/~stoov/ ha nei giorni scorsi annun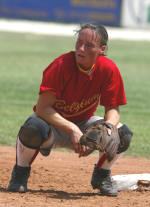 ciato che la forte belga Brenda DeBlaes giocherà nella prossima stagione nel campionato italiano a Bollate. Molti ricorderanno Brenda a Macerata con la propria nazionale durante le qualificazioni olimpiche nel 2003. Nata 25 anni fa, ha iniziato a giocare in Belgio( Pioneers ed Eagles) per poi passare al campionato olandese con le Twins. Dal 2002 ha alternato i campionati olandesi e le presenze con la nazionale belga con il campionato estivo americano. Nel 2004 era sotto contratto dai Sacramento Sunbirds della Lega Professionale Americana (NPF) ma difficoltà finanziarie non hanno permesso alla squadra di iniziare il campionato. Dopo una prova con gli Arizona Heats è rientrata in Europa dove ha giocato con le Twins tra le proteste degli altri team olandesi che contestatvano la possibilità di giocare dopo un'esperienza pro. Ha inoltre partecipato a fine stagione alla Coppa delle Coppe con le belghe del Braves Brasschaat vincendo il titolo di MPV del torneo. Infine a partecipato ai try-out della NPF in Las Vegas (insieme a Francesca Francolini) senza successo. Secondo il sito olandese dovrebbe arrivare a Bollate a fine mese.
Attendiamo
---
IL TESTO ORIGINALE E COMPLETO DEL COMUNICATO STAMPA SU BRENDA DE BLAES
SOFTBALL
Si!
Belgian International Brenda De Blaes signs with Italian top team Bollate
February, 27th 2005
At the end of next month, Bren will be welcomed in the land of pasta and ice cream by her teammates of Bollate (near Milan). Looking for a very good short stop, the Italian top club got in contact with Bren through a network of softball liaisons. The decision to join Bollate was made a couple of weeks ago; Bren couldn't decide sooner, as she was waiting for news from the pro-league in the United States…
Brenda De Blaes is no stranger in the international softball scene, thanks to her excellent performance with the Belgian National Team – where she is seen as a role model, but also thanks to playing in the Dutch Major League (Twins) and her collection of numerous individual awards (often related to batting averages), won during national and international competitions.
Brenda started her softball career, which was a baseball career for a long time, with the Pioneers in Hoboken. Since 1994, she was a loyal player of the Eagles (Wilrijk) and in 2000, she had the chance to join one of the best teams in the Dutch Softball Major League: the Twins. From that moment on, the presence of Bren marks every duel for the Twins in the league; she makes the difference! The American catcher Jaime Wohlbach, playing for the Twins in 2001, noticed the exceptionnal talented Bren and took her with her to Pennsylvania for Summerball. In 2002, Bren won the All American Award in that competition for her performance with the Allentown Patriots.
In 2003, Bren returned to Europe. Stronger, with more athletic skills and more motivation. In every tournament, she left her prints. After tasting "the American way of playing ball", she made it clear for herself: trying out for the new professional league (pro-fastpitch) in the States had become her goal. A goal she seemed to achieve immediately, as she was drafted by the Sacramento Sunbirds as one the first players drafted after the try-out in December 2003 (during the National Fastpitch Coaches Association Convention). She however got released later on, and she was added to the team of the San Antonio Armadillos, where she signed a contract. Financial problems forced the Armadillos to withdraw from the pro-fastpitch league and Bren ended up with the Arizona Heat for Spring training. Murphy's law showed no mercy and Brenda returned to Belgium in April 2004 where she joined the Twins for the regular Dutch competition. Later that year, she played for the Brasschaat Braves (Belgium) in the European Cup for Cup Winners where she won the MVP award. A lot of compliments were given to Brenda during her try-out for the pro-fastpitch league in December 2004 in Las Vegas, but no result came of it so far…
The Italian adventure she is about to embark on, is quite unique for a Belgian player. Foreign players (mostly American pitchers) are regular guests in the Italian competition, so Bren is not the only foreigner at Bollate, the 2003 national champion. The Aussie pitchers Tanya Harding and Kelly Hardie have worn the Bollate jersey before. Italian clubs are known to make efforts for their prospect, so the 25 year old international is in for a professional experience this year! In boca al lupo, Bren!
------- end -----
Info for the press:
Author: Cheryl Francken, softball coach & personal advisor (chezz@wanadoo.nl)
Contact Brenda De Blaes: b_bren**@hotmail.com tel.: +32472389***
Links:http://www.sax.it/bollatesoftball/
http://www.profastpitch.com/